Harness the power
of the

smartphone

and upgrade the way you test water!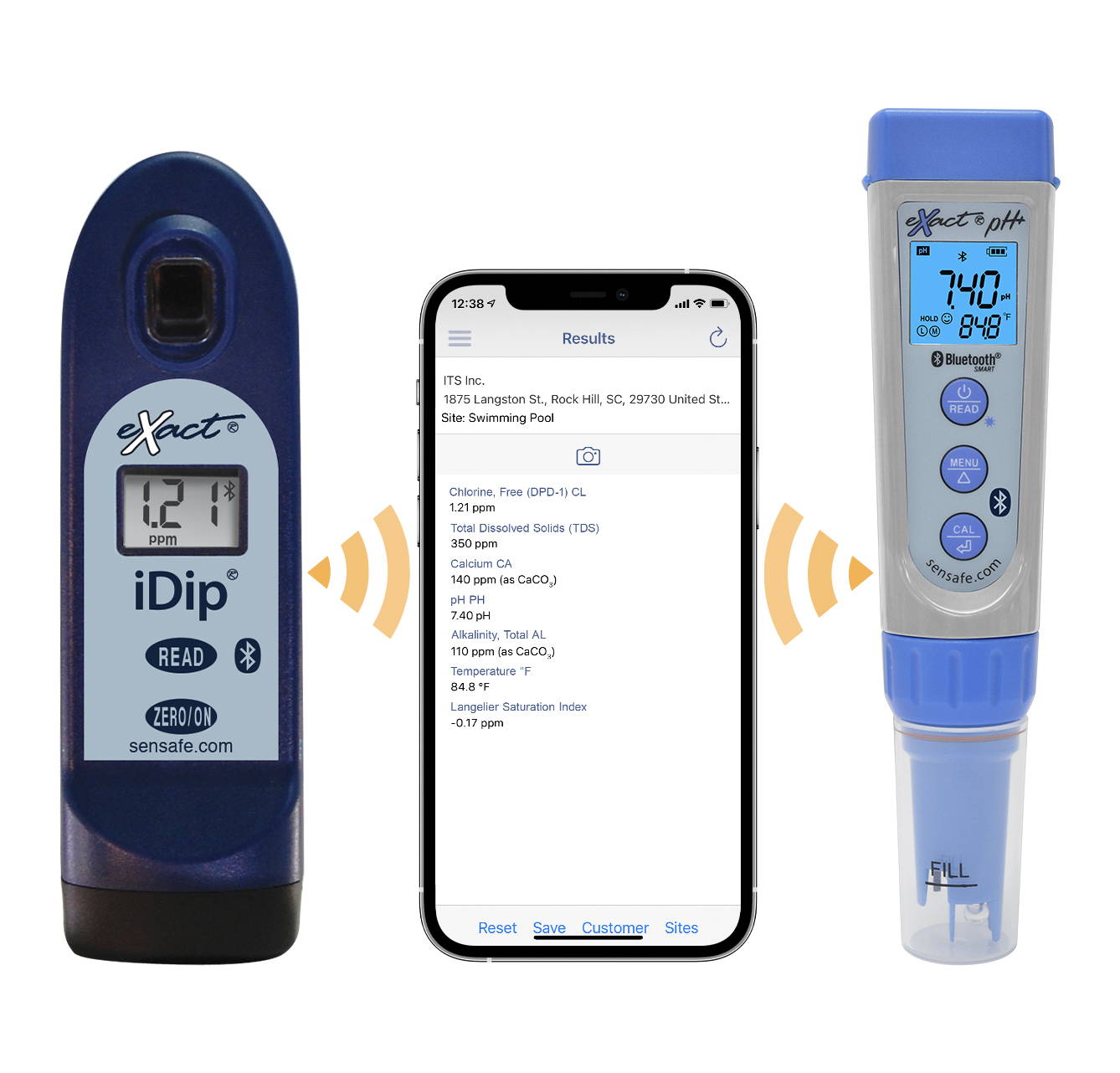 ---
The eXact iDip® Professional kit for pools and spas actually combines two water testing instruments. The first is the revolutionary Level 1 NSF/ANSI50 Certified eXact iDip® Smart Photometer System. This device integrates 2-way communication with smart devices via Bluetooth. The second is the NEW eXact® pH+ Meter System which capitalizes on electrochemistry technology combined with Bluetooth connectivity.

Communication with a smart device

Secure cloud data sharing

Automatic calculation for Sodium, LSI, and Magnesium

Attach images to save results

Time, date, and GPS location stamp

Control test functions with Apple Watch®

iDip tests for over 40 parameters

pH+ tests for 5 parameters with optional ORP probe
---
Our simple alternative to powder pillows, tablets, and liquid systems– eXact® Strips have one or more test pads containing reagents for colorimeter detection of ions in water samples. By dipping a patented eXact® strip into the cell, the reagent is released into the water sample. Our line of eXact® photometers utilize this easy-to-use method to provide you with the most accurate result possible!
---
Testing your spa water has never been so relaxing with Spa eXact® EZ. It'll give you the ability to test 7 important spa water parameters! The Spa eXact® EZ provides accurate results in just seconds! Simply dip an eXact® Strip Micro into the water sample for 10 seconds, using a back and forth motion, discard the strip, and read the results instantaneously!
---
For pool owners and pool professionals who desire an economical way of testing pool water. Pool eXact® EZ delivers 10 pool water parameters with lab-quality results! All tests with the Pool eXact® EZ use our patented eXact® Strips, a quick and easy reagent system for analysis.
---
Test the pH and sanitizer levels in your water with the new Chlorine+ eXact® EZ. You will be amazed at how effortless it is to achieve lab-quality, accurate results within seconds! The Chlorine+ eXact® EZ tests 9 important water quality parameters and uses our patented eXact® Strips, a quick and easy reagent system for analysis.
---